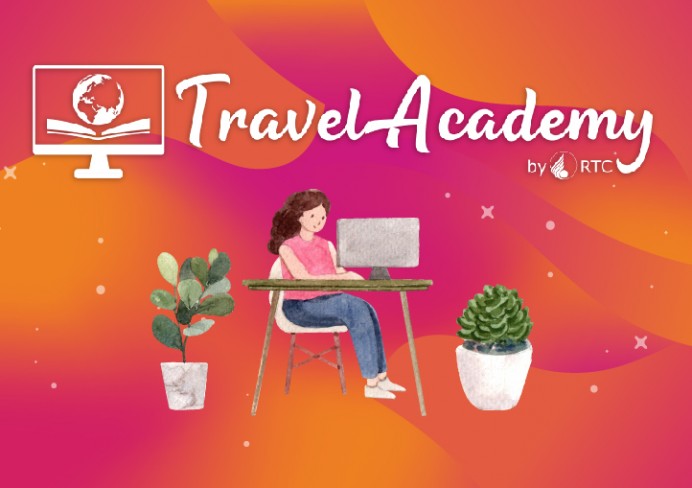 Rajah Travel Corporation (RTC) presents its Remote Practicum (Mentorship) Program under the Travel Academy which offers various sessions that takes the students across different Department Operations of RTC.
With the success of the maiden run on October 5, 2020, Travel Academy is back with more sessions to choose from.
One simply enrolls in the different sessions that will cumulatively fulfill their required total practicum hours.
Register through this link: https://www.rajahtravel.biz/travelacademysecondterm
All sessions are scheduled once or twice a week, from Monday to Friday and runs an hour per session.
Here are the basic requirements that are needed to be fulfilled:
First is an endorsement letter from your school; and
Second is a communication device – laptop, desktop, tablet or smartphone with data/ internet. Speed minimum 5mbps is recommended.
Price range varies from the number of enrollees per school. Discounts may apply for 31 and above enrollees per school.
No of Enrollees
(per school)
200 hours
300 hours
400 hours
500 hours
1-30 students
Php1500
Php2000
Php2500
Php3000
31-60 students
Php1400
Php1900
Php2400
Php2900
Above 60 students
Php1300
Php1800
Php2300
Php2800
Various sessions may be selected by each student and these sessions will already have equivalent no. of hours, so that when one picks various sessions, it may do so in a combination that fulfills one's required number of hours to render. See list of sessions below:
40 hours
20 hours

1. Understanding the Travel Industry

2. Jargons Used in the Travel Industry

3. Tour Product Development (Basic)

4. Tour Product Development (Advanced)

5. Sales Presentation

6. The Art of Negotiation

7. Corporate Travel and Program Management

8. MICE: Meetings & Conferences

9. MICE: Events & Exhibitions

10. Tourism Knowledge Center

11. Travel Documentation

12. General Tourism Marketing

13. Digital Marketing

14. Applied Operations Management

15. Guest Experience Delivery

1. Air Content Platform in the Travel Industry

2. Understanding your Potential in the Travel Industry

3. Corporate Travel: Supplier Negotiation

4. Accounting in Practice

5. Tourism Strategic Marketing

6. Operations Management

7. Client Contract Management

8. Airline and Airport Operations

9. Product-based training: Insight Vacation/Luxury Gold*

10. Product-based training: Contiki *

11. Product-based training: Uniworld River Cruise *

12. Product-based training: Norwegian Cruise Line *

13. Product-based training: Club Med *
*You will have the opportunity to get brand certificates
Download eFlyer: [pdf file]
For inquiries, please contact Ylloisa Amene at mobile 09176224409 and thru email recruitment@rajahtravel.com.
You may also get in-touch with us through our social media accounts:
FB /rajahtravel.com
IG /rajahtravel_com
Twitter /rajahtravel_com
_______________
Date published: 12 January 2021