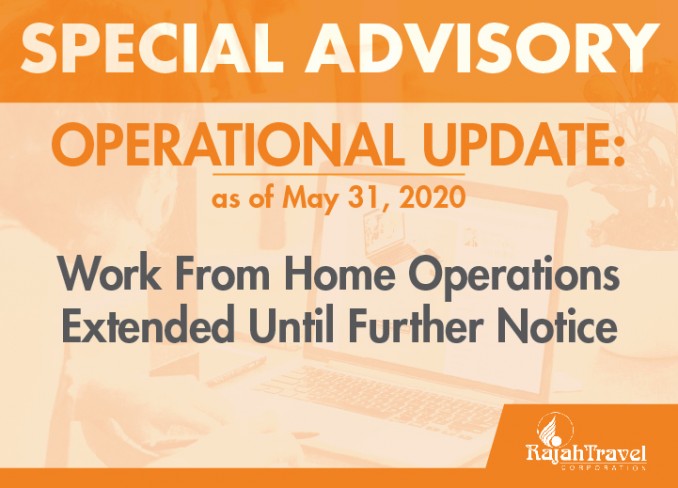 Operational Update: Metro Manila under General Community Quarantine Effective June 01, Work From Home Operations Remain in Place​
The Philippine government has announced that various parts of the Philippines, including Metro Manila, will be under a General Community Quarantine (GCQ) beginning June 01, 2020 easing work and travel restrictions slightly within GCQ areas.
However, as shared in a previous advisory, The Department of Trade and Industry (DTI) has stated that travel agencies and tourism establishments are not allowed to operate under any of the quarantine protocols.
In compliance with this directive, our offices will remain closed and our employees will continue to work from home until further notice to support the operational needs of our clients.
The health and safety of our employees and business partners is our top priority. We will continue to monitor the COVID-19 situation to respond as necessary and observe our business continuity plans to minimize possible impacts to our operations.
For inquiries, you may reach us through
RTC Website: www.rajahtravel.com
Facebook: /rajahtravel
IG: /rajahtravel_com
Twitter: /rajahtravel_com
We will try to respond to you the soonest possible time.
____
Reference: Rajah Travel Corporation Information Brief Issue No. 20-19
Released 08 April 2020
Updated: 27 April 2020 Information Brief Issue No. 20-20
Updated: 14 May 2020 Information Brief Issue No. 20-22
Updated: 29 May 2020 Information Brief Issue No. 20-25