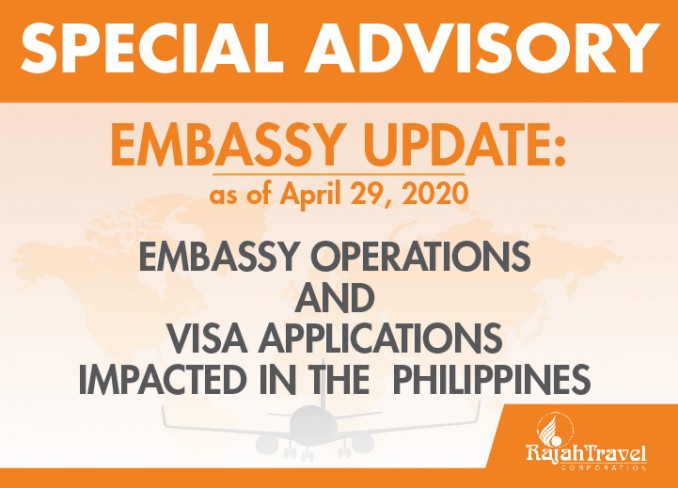 Embassy Operations and Visa Applications Impacted in the Philippines
(updated 29 April 2020)

The Philippines is currently in under a state of national emergency due to the COVID-19 virus. Enhanced Community Quarantine period has been extended until May 15, 2020 and only essential government and private institutions remain operational.

Below is a compilation of embassies and visa lodgment centers and their current operations.
The US Embassy has announced that they will not accept visa applications until further notice. Furthermore, they are cancelling all immigrant and non-immigrant visa interviews scheduled through May 31.
Meanwhile, Japan has revised border measures issued on April 27.
Please reach out our documentation services team should you require any assistance through mobile numbers: +63 917 8543628/ +63 927 6867062/ +63917 5296774/ + 63 917 8543627.

ASIA-PACIFIC COUNTRIES
ACCEPTS VISA APPLICATION
DOES NOT ACCEPT VISA APPLICATION
REMARKS
POSTED/
UPDATED ON
JAPAN (JP)

•

1.Will not accept visa applications until further notice

2. Japan to strenghthen boarder measures starting midnight of April 3. You may refer to this link for further information: https://www.ph.emb-japan.go.jp/itpr_en/11_000001_00078.html

3. On April 27, "New measures for strengthening border measures" was decided in Japan.

The main points of this measure are as follows. When returning to Japan, please be aware of this and check the latest information.

For details, please check the link below:
https://www.anzen.mofa.go.jp/info/pcwideareaspecificinfo_2020C048.html

4. Border enforcement measures to prevent the spread of novel coronavirus (COVID-19)

Denial of permission to entry
Quarantine Measures
Suspension of visa validity
Validity of visas listed on the below link (including the visas issued in the Republic of the Philippines) are suspended until the last day of May.
Suspension of visa exemption
As visa exemption measures with the countries and regions listed below are temporarily suspended, those who fall under the measures are required to obtain visas before visiting Japan. This will be in place until the last day of May.
Restrictions on airport/ports for arrival
All the measures will be in place until the last day of May (The period may be renewed).

Please check the link below for the detailed notice from Ministry of Foreign Affairs of Japan:

April 29, 2020
SOUTH KOREA (KR)

•

1. Supending the acceptance of visa application except for diplomatic, official and other humanitarian reason

2. The Republic of Korea will require a mandatory 14-day quarantine for all travelers (regardless of citizenship) entering Korea at either their place of residence or a government-designated isolation facility, effective April 1, 2020 at 00:00 hours.

3. For all illegal migrants leaving Korea and wish to return, they may apply for a visa in the diplomatic mission of the Republic of Korean in the Philippines within the period of between 3 months to one year form the date of their departure to Korea.

The requirements are as follows:

Visa application form
1 passport sized photo
Confirmation of voluntary departure
NBI clearance
Tuberculosis test result

4. All valid short term visas (single, multiple, visa type: C-1, C-3) that were issued on or before April 5 will be temporarily suspended * This will not apply to long term visa (visa type: A, D, E, F, G, H and short term employment visa (c-4)

5. Visa free Entry and visa waiver programs will be temporarily suspended for nationals of countries imposing entry bans to Koreans)

* this will not apply to holders of diplomatic, official passports, inbound flight (ship) crew members, and APEC card holders

6. All ROK diplomatic missions will enhance the screening of new visa applications

* Applicants will be required to submit documents such as medical certificate issued within 48 hours before visa application and an agreement to quarantine

April 10, 2020

BANGLADESH (BD)

•

Bangladesh Embassy will not accept visa applications. They will let us know further regarding the resumption date of their visa services.

April 21, 2020
CAMBODIA (KH)

•

All visa exemptions and issuance of visas on arrival and e-visas are suspended until 30 April 2020.
March 31, 2020
CHINA (CN)

•

Consular services of the Embassy of China will be suspended until further notice
March 17, 2020
INDIA (IN)

•

March 16, 2020
INDONESIA (ID)

•

Indonesia Embassy consular services is temporarily suspended until enhanced community quarantine is lifted.
April 22, 2020
AUSTRALIA (AU)

•

1. Visa application to be submitted online (Immi Account)

2. VFS Australia do not accept visa applications via lodgment
March 16, 2020
MALAYSIA (MY)

•

March 17, 2020
MYANMAR (MM)

•

1. Temporary suspension of all types of visas (including social visit visas) and visa exemption services

2. Temporary suspension of issuance of visa on Arrival and e-visa
April 29, 2020
NEW ZEALAND (NZ)

•

1. Visa application to be submitted online

2. VFS New Zealand do not accept visa applications via lodgment
March 16, 2020
PAKISTAN (PK)

•

Until further notice
March 26, 2020
PAPUA NEW GUINEA (PG)

•

1. Starting March 16, PNG does not accept visa application

2. The Embassy will release further announcement on Friday, March 20 if they will accept visa applications or not
March 16, 2020
SINGAPORE (SG)

•

1. ICA has made some changes to the e-visa letters. They included an additional line in the e-visa letter to let e-visa holders know that they are required to declare their health and also fill up their arrival information before they enter Singapore.

2. The Revised e-Visa letter (individual) was implemented on 26 March 2020 while the e-Visa letter for Collective Gratis Visa (CGV) was implemented on 13 April 2020. (Note: The new letters have not been issued yet.) They gave RTC samples of new e-Visa letters for our reference.
April 23, 2020
SRI LANKA (LK)

•

NAs per the instructions given by the Department of Immiration and Emigratrio, all types of visa issuance to enter Sri Lanka for all foreign nationalities are temporarily suspended until further notice.
April 22, 2020
TAIWAN (TW)

•

March 16, 2020
THAILAND (TH)

•

Visa Section is closed from March 17 to April 13
March 15, 2020
VIETNAM (VN)

•

The Embassy of Vietnam is closed for 30 days starting March 18, 2020
March 26, 2020
EUROPE AND
MIDDLE EAST COUNTRIES
ACCEPTS VISA APPLICATION
DOES NOT ACCEPT VISA APPLICATION
REMARKS
POSTED/
UPDATED ON
AUSTRIA (AT)

•

No short-stay (Schengen) visa applications will be accepted until further notice. Exceptions only for those relatives of Austrian or EU citizens who live in the same household in Austria, as well as diplomats of official mission in Austria.
March 13, 2020
BELGIUM (BE)

•

Only accepts seafarer, working permit and au pair visa applications
March 20, 2020
CZECH REPUBLIC (CZ)

•

March 16, 2020
DENMARK (DK)

•

Subject to change
March 16, 2020
FRANCE (FR)

•

New operation hours until further notice:
7:00 - 12:00 noon - Visa filing
12:00 - 2:00PM - Visa releasing
March 19, 2020
GERMANY (DE)

•

Starting March 18, no visa applications will be accepted until further notice
March 23, 2020
GREECE (GR)

•

Starting 16 March 2020, the Consular Office will be OPEN ONLY every MONDAY, WEDNESDAY, AND FRIDAY until further notice.
Authentications and releasing of passports will be moved at an earlier time, 12:30PM to 1:30PM
March 16, 2020
HUNGARY (HU)

•

No applications will be accepted until 14 April
March 16, 2020
IRELAND (IE)

•

Until further notice
March 23, 2020
ITALY (IT)

•

Until further notice
March 16, 2020
NETHERLANDS (NL)

•

Until further notice
March 18, 2020
NORWAY

•

Until further notice
March 16, 2020
RUSSIA (RU)

•

Will not accept visa applications until further notice
-April 20, 2020
SPAIN (ES)

•

Until further notice
March 24, 2020
SWITZERLAND (CH)

•

Until further notice
March 19, 2020
TURKEY (TR)

•

Until further notice
April 1, 2020
UNITED ARAB EMIRATES (AE)

•

Will not accept visa applications until further notice
March 16, 2020
UNITED KINGDOM (GB)

•

Will not accept visa applications until further notice
March 23, 2020
THE AMERICAS AND AFRICA
ACCEPTS VISA APPLICATION
DOES NOT ACCEPT VISA APPLICATION
REMARKS
POSTED/
UPDATED ON
UNITED STATES OF AMERICA (US)

•

1. Will not accept visa applications until further notice

2. The US Embassy in the Philippines is cancelling all immigrant and non-immigrant visa interviews scheduled through May 31, 2020 due to the extension of the Philippines' enhanced community quarantine measures to reduce the spread of COVID-19.

After the enhanced community quarantine is lifted in Metro Manila, all affected applicants should reschedule their visa interviews through the Embassy call center by phone at +63 (2) 7792-8988 and +63 (2) 8548-8223, or through the online appointment system at ustraveldocs.com/ph.

There is no fee to change an appointment and visa application fees are valid for one year in the country where the fee was paid.

April 27, 2020
CANADA (CA)

•

Will not accept visa applications until further notice
March 16, 2020
MEXICO (MX)

•

Until further notice
April 1, 2020
EGYPT (EG)

•

Will not accept visa applications until further notice
April 21, 2020
SOUTH AFRICA (ZA)

•

Will not accept visa applications until further notice
April 21, 2020
ARGENTINA (AR)

•

Until further notice
March 16, 2020
PANAMA (PA)

•

Until further notice
March 24, 2020
CHILE (CL)

•

Until further notice
March 30, 2020
GHANA (GH)

•

Until further notice
March 16, 2020
NIGERIA (NG)

•

Until further notice
March 16, 2020
ANGOLA (AO)

•

Until further notice
March 31, 2020
URUGUAY (UY)

•

Until further notice
March 26, 2020
JAMAICA (JM)

•

No advisory as of the moment
-
ALGERIA (DZ)

•

Will not accept visa applications until further notice
April 23, 2020
TUNISIA (TN)

•

Until further notice
April 2, 2020
Source: Rajah Travel Corporation Information Brief Issue No. 20-16, released 26 March 2020
Updated: Information Brief Issue No. 20-21, April 29, 2020