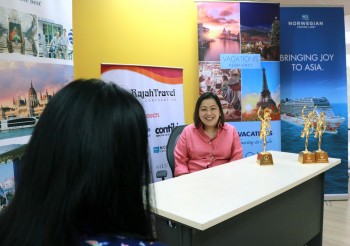 The travel industry has never been more dynamic than now. Because of competition, it has become more affordable so that even regular employees or students with shoestring budgets can afford to explore the Philippines or visit nearby countries. And because of the onslaught of technology and online booking which continues to threaten the viability of the travel industry, service has improved tremendously. Sadly, many small tour operators have folded up and only the bigger ones continue to thrive, but they have had to reinvent themselves to adapt to the changing landscape.
One of the leaders in the travel industry is Rajah Travel Corporation, a spin-off of the mother company Rajah Tours Philippines started in the time of former president Ferdinand Marcos, now run by Aileen Clemente. We recently featured Aileen as one of our Business Movers in Business & Leisure, the TV show, where she shared her life story with us.
Both of Aileen's parents Jose and Dading Clemente studied law, but her dad worked immediately for Senator Alejandro Almendras before being appointed by former president Marcos as director of the Bureau of Tourism, so he never actually practiced law.
Aileen recalls that her father was the only one appointed to a directorship position in the Bureau of Tourism which eventually became a ministry. Her mom also worked in the same government agency as chief of the licensing department. It was there where they met and got married, but when her father became the director, he thought it best to ask her to move out to avoid ethical concerns.
That was when the family matriarch, Dading, started a small travel agency named Rajah Tours Philippines with a seed money of only P10,000. A friend who believed in the potential of the business pitched in another P10,000 and Rajah Tours Philippines was set to go. That was an exciting era, Aileen remembers, because Marcos was keen on promoting the Philippines as a premier destination in Asia. She remembers endless meetings at their home and animated discussions on tourism. Sundays were not spared as the family would head to the office after mass because a big tour was arriving. Rajah Tours was the first to cater to the big Chinese market and the company is credited with crafting the policies on how to open visas for restricting nationals, opening the Scandinavian market and actually opening several new markets.
The Clemente family owned a hotel in Baguio when Aileen was growing up, the Baguio Royal, before the big earthquake that virtually flattened the City of Pines. Aileen spent her summers working at the hotel and being paid P10/day. She laughs at the memory, but that probably paved the way for her full immersion into the company and the industry they helped nurture.
Aileen is the youngest of four siblings, two boys and two girls, and the "bunso" now sits at the helm of Rajah Travel, perhaps the biggest stakeholder in the tours industry. She had her early education at the Poveda School, but had to move to the US with the family when her dad suffered a stroke. Back in the country, she studied at the University of the Philippines and took up Business Economics until the family again moved to the US after her dad's second stroke. She finished at St. Mary's College with a double major in Business Administration and Economics. It was in the US where she expanded her horizon, joining all the extracurricular activities and organizations in school, even doing work for the Department of Commerce. From Glee Club to Drama Club to the varsity team as captain of the volleyball team, Aileen's yearbook entry was one of the longest. It was there that she imbibed the leadership values that dictated that one "should spell a difference in whatever you do." At that age, she knew what she wanted and that was to sit at the helm of a big company. And now she is seeing fruition in that dream.
Aileen joined the mother company in 1997 and only moved out to join Rajah Travel Corporation in 2000. As Aileen explains, the mother company exists mostly to cater to the inbound travellers, but she has reinvented Rajah Travel to cater not only to inbound and outbound travellers, but also to serve different niches, serve the expanding market for international conventions, events and meetings, corporate leisure travel, energy resources and marine. Because not too many understand the last two, she is quick to explain that this entails their consulting services for energy resources and marine companies that require unique or different travel arrangements. For their corporate clients, they offer consultancy services to manage their travel policies, and can customize itineraries that would include dinner in Michelin-rated restaurants that are almost impossible to book.
Online bookings have overtaken many of the smaller tour companies, but Rajah Travel, Aileen says, does both online and offline bookings. They have not limited themselves to simple ticketing, booking and creating tour packages. They are a travel service provider that maintains the old business model but has adapted a new business model to cope with the times.
So, with customized travel and enhanced service, what else is in store for this business mover in an industry where she rules? According to Aileen, their goal is industry growth, more than just her company's growth. It is all about stewardship, she says, and not about profit. Like in the company that she leads where she employs some 250 employees, including work-at-home and part timers, she employs efficient stewardship. They have second and third generation employees and the company is very familial, while still keeping the corporate structure intact.
For the travel industry, she hopes the focus will be less on marketing and more on the improvement of our infrastructure. While our ASEAN neighbors are already building theirs for 2030 and beyond, our vision is only up to 2025, she says.
In terms of affiliation, Rajah has the most extensive, counting most of the national and international chambers of commerce and international organizations like IATA, PTAA, PHILTOA, the World Travel & Tourism Council and The American Society of Travel Agencies and is accredited by many embassies. In fact, they are one of only a handful allowed to process visas for Japan and Singapore. They are also dealers for Insight Vacations and Uniworld that handles boutique river cruises.
Aileen says that she is not one to relax. While travel for many is a form of relaxation, it is also an integral part of her business, which also means to say that work and relaxation for her are one and the same.
Mabuhay!!! Be proud to be a Filipino.
BUSINESS & LEISURE By Ray Butch Gamboa (The Philippine Star) | August 12, 2017
Original link: http://www.philstar.com/business/2017/08/12/1727984/tourism-mover