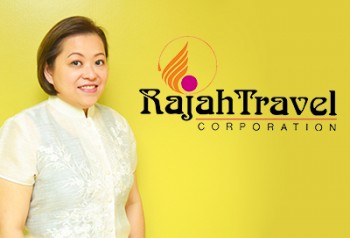 In a world dependent on its smartphones, most travel arrangements can be done in a swipe, making it easy to skip booking through a travel agent altogether.
But the rise of DIY travel is rife with harrowing encounters: inconvenient flights, out-of-the-way accommodations, and tour itineraries that, instead of offering cheaper alternatives, could end up incurring more costs.
This is why global travel insight firm DCS+ reminds consumers of the real value of travel agents, as they cut the complexity, offer customization, ensure personal connection, and offer service expertise that guarantees a seamless flow of travel encounters from start to finish. And, in the Philippines, only one name has built enough of a reputation to ensure the comfort and class of red-carpet travels.
Since it opened in 1972, Rajah Travel Corporation — first founded by Alejandra and Jose Clemente — has grown into the country's top travel-service provider. This is a comfy position to be in, but Rajah's second-generation leadership, represented by current chairman and president Aileen Clemente, refuses to rest on their laurels. She is evolving the company to better suit the changing trends in the Filipino and foreign travel market, all while maintaining its founding values.
"The culture of Rajah looks at travel as stewardship," Aileen explains, speaking at length about how the brand has remained dominant after four decades. "Rajah means 'royalty,' and it entails giving service that befits royalty. We are empowering people to go and visit places to inspire them to make the world a better place."
Having been with the company for 17 years, Aileen has a front-row view of how the travel industry has shifted through the years. Now it is her turn to reaffirm Rajah Travel Corporation's relevance: "Even if we still keep the familial aspect of it, Rajah is more corporate now because we compete with the rest of the world," she notes. "Luckily, we've got the best of both worlds. You have the entrepreneurial spirit, the personal touches, and the capacity to adjust with what the new generation of travelers wants now."
Covering the whole spectrum of travel, be it for outbound or inbound travelers going on business or leisure trips, Rajah Travel Corporation has keen insights into the challenges and opportunities of modern-day travel. And, with enough wisdom and experience, Clemente knows exactly where her company and its customers are headed.
THE RISE OF BESPOKE TRAVEL
According to global travel statistician TripBarometer, the travel industry is seeing the rise of "experience" travelers, or those who are likely to spend more on sightseeing than on shopping and souvenirs combined — 69 percent of global travelers among all age groups tend to imbibe a bucket-list mindset, placing more value on one-off destinations and features, thereby rendering the usual guidebooks and package tours outdated. And half of these travelers don't mind paying for a premium, because they think it is what they deserve.
"Our travelers now are more knowledgeable," she says. "They research a lot, so you really have to know more than them. In our case, we try to have as much consultants with good knowledge of our products, and we see to it the packages that we offer are those that you can't get anywhere else. The destinations may be the same, but the offering is bound to be different."
By partnering with Insight Tours, the world's pioneer in "signature experience" travel, Rajah Travel Corporation has expanded its portfolio to include the most luxurious destinations, accommodations, and encounters. Insight Tours' Luxury Gold Vacations, for instance, crafts one-off itineraries that include the plushest accommodations, Michelin-starred gourmet restaurants, and VIP access away from the madding crowd in some of the world's most desirable tourist spots.
"Travelers should always remember that travel isn't all about the tangibles, like the sites and the stops, but also the intangibles, such as savings in time, comfort and convenience, and the special access and unique experiences," Clemente says. "We've painstakingly done our homework to ensure that you get better access wherever you go. With this, the memories that you create are priceless."
While Insight Tours' posh travel arrangements could come with a hefty price tag, Aileen notes, "If you average the tour rate with the types of accommodations, destinations, and experiences we offer with these packages, you realize that they end up being cheaper." So, rather than targeting the top-tier travelers for these premier package tours, Aileen believes that it is experience, not economics, that will dictate its acceptance in the growing Philippine travel market.
"I would call them the 'mature travelers,' those who have experienced the troubles of traveling that they have a better appreciation for a more organized, specialized way of travel," she says.
TRAVEL IN THE AGE OF DIGITAL DISRUPTORS
Topmost travel app TripAdvisor reveals that almost half the world's travelers currently book their trips through a mobile app. In fact, between 2011 and 2015, mobile travel bookings increased by 1,700 percent as travelers are getting younger, with tourists aged 15 to 29 making up a quarter of international travelers. The rise of travel booking apps such as Expedia, Skyscanner, Hopper, and Airbnb render traditional travel agencies irrelevant as the whole industry sees DIY travel on the rise.
"Some of our friends in the industry fear that kind of disruption," she reveals, "but really, we don't fear it. Maybe the young ones are doing it because it's cheaper and the thrill is there. But once they see the value of how long it takes to research to make a booking, how many sites it takes to visit and compare, then they would learn the value of the travel agent. For our part, we make sure we have the facility to cope with these changes. We have our own mobile app and our social media is very active."
As penny-pinching millennials (60 percent of them, in fact) tend to spend more money on experiences rather than material things, Rajah Travel Corporation looks into tour packages that maximize those kinds of unique encounters. Their Contiki travel package offers a distinct take on some of the world's most celebrated destinations.
"Contiki is for travelers aged 18 to 35," she explains. "It basically promises travel with no regrets, by offering different travel experiences for different types of young travelers. They have packages for those who like immersing in culture, adventure, or those who want a more relaxed pace."
Parents can also rest assured their young travelers are safe with Contiki. "Our European operators alone can handle up to 100,000 travelers annually, and so far they haven't encountered any problems with regards to the security and safety of our travelers."
TRAVELING WITH THE TERROR THREAT
Whether around the world or on the home front, Aileen admits that the new "normal" of terrorism has had a significant effect on the travel industry, and she sees her business as being endangered as well. "There will always be a backlash in tourism when there is a security concern, but it can be managed." More than renewed tourism slogans or splashy marketing campaigns, Aileen notes that, "there has to be a coordinated effort from different agencies to make sure that the negative impact on our tourism would be minimized.
"We don't ask government agencies to whitewash the available information, but at least we can strive to make the information clearer, more relevant, definitive, and more assuring. This isn't only about the peace-and-order situation but also during (times of) natural disasters. We're talking about coming up with a general risk-management plan for the sake of our tourism industry," she says.
Just to have a clearer picture of what is under threat in a climate of questionable security, the travel industry contributes 8.6 percent to the Philippine economy, employing as much as 5.2 million individuals.
"What my mom, Dading Clemente, along with other key tourism industry players, did was to push for the Tourism Act. There's supposed to be long-term planning on tourism as institutionalized by law. Unfortunately, we haven't seen this happening now. We're always about Band-Aid solutions and not coming up with a surgical solution to push our tourism industry forward," she laments.
THE CHALLENGE OF SUSTAINABLE TOURISM
To resolve this, Aileen proposes that everyone, be it the government, the private sector or consumers, see tourism as a case of cause and effect. "Tourism is actually both an art and science. The science part includes knowing the statistics, predictions, and forecasts. It's all about counting numbers and employing research to guide us in making worthwhile products, packages, and programs.
"In travel, the end point will always be experiential. So, if at any point there are disruptions — whether it is long lines or delayed flights — there will always be an upset among our visitors. How do we turn these pain points into touch points?" she asks.
While the Tourism Development Plan has underlined the country's key tourism development areas and how to enhance them in terms of infrastructure and industry support, Aileen notes that there are bottlenecks in their realization. "When you make a plan, you have to make sure that everyone implements because the efforts of others will be curtailed by someone's failure to execute. We all know that there are places in the country that are still under-explored. We can develop these other parts of the archipelago if there is a more concerted effort among the different agencies when it comes to implementing an actual tourism master plan."
And, in the case of those tourism spots in the country that are actually too popular for their own good, Aileen warns, "We've seen some of our islands that aren't employing sustainable practices. They have little regard for carrying capacities, and it ends up polluting the entire place. They don't understand that when you pollute a place for two years, its takes 30 years to bring it back to its original state. Tourism is not just about the numbers, but most are too concerned about the numbers that they tend to overlook these adverse effects."
She believes that a good, sustainable business, particularly in the tourism industry, isn't all about generating quantity but maintaining quality. "I just hope that stakeholders in these areas will have more sincerity and less selfish interests. There's only one earth, and any selfish movement may give you money, it can get you elected, or give you good business, but the costs may be greater. I hope they understand that these will all come even if you do things right."
Despite having excellent ideas on how to push local tourism forward, Clemente shies away at the thought of holding public office. "I don't need a title to help the industry. What we've been doing is trying to bridge the gap of theory and practice by involving ourselves where we can to create a better travel ecosystem. We're not just a company, doing our business. If we can move the industry to a better place, then we will involve ourselves where we can."
Rajah Travel partners with Insight Tours for luxe travelers, and with Contiki for millennials.
source: https://www.pressreader.com/philippines/the-philippine-star/20170710/282797831409424