France: Heritage Discovery Tour

USD 3290 per person based on twin-sharing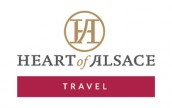 INCLUSIONS:
Airport transfers
Hotel accommodation for 7 Nights
Seat-in coach tour with English speaking tour guide
Meals as indicated in the itinerary: 7 Breakfast buffet, 5 Lunch , 4 Dinner
Experiences as indicated in the itinerary
Tour entrance fee
City Tax
EXCLUSIONS:
Airfare
Visa
PH travel Tax
Travel Insurance
All beverages (unless otherwise specified)
Incidentals in hotels such as laundry, telephone calls, mini bar
All other services not mentioned in the itinerary
Tips for the drivers & local guides
*Terms and Conditions apply see Heart of Alsace e-brochure page 93-94
Best Experiences
Guided city tours in Strasbourg, European Capital; Colmar,Capital of the Wine Route; Nancy, the Capital of the dukes of Lorraine; Reims, City of coronation; and Paris
Sightseeing boat tour from downtown to the European Parliament, through the imperial district of Neustadt
Extraordinary experience aboard the hot-air balloon 150-meters above Epernay
Facinating Cellar visits in Alsace and Champagne
Private wine tasting in famous Alsatian estates and Champagne Houses
Cultural and Religious Heritage Site Visits
Mount Sainte-Odile, a 760-meter-high peak in the Vosges Mountains, convent and center of pilgrimage dedicated to Sainte-Odile
Haut-Koenigsbourg castle, one of the symbols of the Alsatian heritage
Abbey church of Saint-Maurice
Unterlinden Museum in Colmar
Humanist Library in Selestat
Lourve Museum in Paris (possible stop)
UNESCO world heritage sites in Alsace: Grande île (Strasbourg Cathedral Notre Dame & La Petite France) & Neustadt
UNESCO world heritage sites in Champagne: Notre Dame de Reims , Champagne Alley in Epernay, and hillsides of the Aÿ's vineyard
Memorable Lunch and Dinner
Food & wine pairing
Tarte Flambee experience in traditional Winstub
Dinner in local Alsatian restaurants
Food & Champagne pairing for lunch
Dinner in local restaurants in Reims
Lunch in the Eiffle Tower Restaurant, "The 58" with exceptional views over Paris, or to the legendary Brasserie, "La Coupole" in Montaparnasse
DAY 1 WELCOME TO ALSACE (D)
Arrive at Zurich airport at around 1:20pm and transfer to your Hotel in Alsace. At around 5:00pm check-in and then join everyone for a welcome drink and an introduction about your trip. Enjoy a nice dinner in a traditional restaurant.
Hotel**** Colmar
DAY 2 TREASURES OF HISTORY (B/L/D)
Travel to Sélestat to discover a treasure of Renaissance! Have a guided tour at the Humanist Library, a treasure which features on the UNESCO Memory of the World register. Explore the secrets from medieval manuscripts to rare printed works during the 15th and 16th century, in a magnificent architectural setting created by Rudy Ricciotti. Continue on to the wine road and enjoy a wine-tasting in a typical cellar and a delightful lunch in a traditional restaurant. After lunch, have a short visit of Riquewihr, the Gem of the Alsace vineyards and city listed among the Most Beautiful Villages in France. Return to the Capital of Alsatian wines, Colmar and explore the Unterlinden Museum and its masterpiece of "Le Retable d'Isenheim"; After the Museum, walk around the Old town of Colmar where you'll find the Little Venice, half-timbered houses, the covered market, and St Martin's Church. Spend the rest of the day at leisure before your dinner at a local restaurant.
Hotel**** Colmar
DAY 3 STRASBOURG CITY TOUR (B/D)
Begin with a guided walking tour at the city center and seat of the European Parliament, Strasbourg. Discover its 2000-years history and exceptional UNESCO heritage as you encounter the majestic Notre Dame Cathedral and La Petite France. You are free during lunch to continue your discovery of the city from a unique perspective. Walk along the waterfront and have a sightseeing boat tour from downtown to the European Parliament, through the imperial district of Neustadt. Then, have your free time to shop and explore the beauty of Strasbourg before a typical "Flammekueche" dinner, an Alsatian dish with a dough base topped with a mixture of cream, soft white cheese, bacon chunks and onions.
Hotel**** Colmar
DAY 4 FOLLOW THE WINE ROUTE (B/L)
Start the day by a guided tour of the Mount Sainte-Odile, a 760-meter high peak in the Vosges Mountains, convent and center of pilgrimage dedicated to Sainte-Odile about the end of the 7th century. Continue with the visit of a gingerbread factory and museum in Gertwiller, capital of gingerbread. For the lunch, live a memorable time, including cellars visit, wine- tasting and a cold cut and cheese platter. In the afternoon,explore the Haut-Koenigsbourg castle, one of the symbols of the Alsatian heritage. Continue on to the "Grand Ried", a natural region in central Alsace, with an exceptionally rich natural heritage. Marvel at the baroque style, splendid and richly decorated abbey church of Saint-Maurice dating back from the 18th century. During your visit, you'll also see its famous organ which is the work of the famous organ builder André Silbermann and enjoy a short organ concert. Go back to the hotel and enjoy free time during dinner.
Hotel**** Colmar
DAY 5 DEPARTURE TO CHAMPAGNE AND VISIT OF NANCY CITY ON THE WAY (B/L/D)
Private transfer to the historical sparkling wine province and its capital the City of Reims, located between Alsace region and Paris. On the way, stop in the Lorraine Region, to visit the City of Nancy, capital of the Dukes of Lorraine. Have a guided tour by foot through the old town center and on its famous Place Stanislas, a large pedestrianized square. This architectural ensemble comprising the Place Stanislas, the extension of its axis, the Place de la Carrière, and the Place d'Alliance has been on the list of UNESCO World Heritage Sites since 1983. After a lunch in a local restaurant in that area, continue to Reims. Check-in as you arrive and have a dinner at 7:00pm. Spend a night at leisure to relax and enjoy City of Reims!
Hotel**** Reims
DAY 6 THE "CHAMPAGNE" EXPERIENCE (B/L)
Walk at the city centre of Reims and visit the Cathedral, a UNESCO World Heritage Site, where French kings were coronated during the French Monarchy. Carry on with a fascinating dive into the "crayères", the sumptuous Champagne cellars, and have a taste of their products they take pride of. Travel to the south of Reims and arrive in the area of Hautvillers village, the cradle of Champagne, for an original Champagne and food pairing. After lunch, take a shortwalk in the village of Dom Pérignon, the "Father of Champagne" and then proceed to your wine journey in the "Champagne Alley" in Epernay which is registered as a UNESCO world heritage site. After, have an extraordinary experience 150-meters above the ground aboard the balloon of Epernay. Discover the hidden gardens of the Avenue de Champagne and contemplate the hillsides of the Champagne vineyards. To cap off this day's journey, drink Champagne on the hillsides of the Aÿ's vineyard, also a known UNESCO world heritage site.
Hotel**** Reims
DAY 7 WELCOME TO PARIS, THE CITY OF LIGHT! (B)
After your breakfast, transfer to Paris and check in your 4* Hotel. Enjoy a free afternoon to discover the city of Light. Walk long the outstanding Jardin des Tuileries and immerse yourself in the treasures hidden under the amazing pyramid of the Louvre Museum. Stroll through the streets of Quartier Saint-Germain and its cosy "cafés" and "brasseries". Go from Avenue Montaigne to Champs-Elysées and explore the French fashion, designers' boutiques and department stores for a unique shopping run. Whether you explore historic districts or architecture, gastronomic restaurant or museum, one thing is certain: the City of Light is a captivating one.
Hotel**** Paris
DAY 8 PARIS CITY TOUR (B/L)
Start relaxed. Check-out in the morning around 11:30 am meeting with your guide and departure for an memorable lunch to the Eiffel Tower restaurant, "The 58", with exceptional views over Paris or to the legendary Brasserie, "La Coupole" in Montparnasse. In the afternoon, free time along the Tour Eiffel area, exploring The Trocadero and The Parc du Champs-de-Mars or ascent up to the Montparnasse Tower Panoramic Observation Deck for a breathtaking 360° panoramic view 210 meters above the ground. After, visit the Lourve Museum or enjoy a panoramic city tour of the French Capital for a discovery of its the iconic sites (Notre-Dame, Arc de Triomphe, Champs-Elysées, Opéra Garnier, Les Invalides). Around 5pm, transfer to the airport of Paris Charles de Gaulle for your flight back to the Philippines.
End of Tour