Starts from USD2075 per person
Insight Vacations: Autumn, Winter & Spring Sale
Discover the Magic of the Seasons!
Request a Quote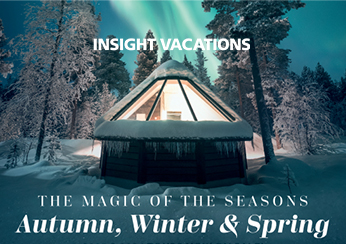 Discover the Magic of the Seasons!
Discover the best-kept secret in travel – our Autumn, Winter, and Spring collection. Exceptional value and the magic of the seasons await on premium guided tours in a variety of destinations.
From the winter enchantment of the northern lights in Iceland and the Christmas markets of Europe, to the pure beauty of milder temperatures in Spain, Turkey, and Egypt, now is the time to plan your future getaway.
Wherever you choose, a premium guided tour with Insight means stylish hotels, delicious dining, and your Travel Director taking care of all the details.
Save 10% on departures from 1 October 2022 to 30 April 2023 on selected tours when you book between 01 August 2022 to 31 October 2022.
WHY GO GUIDED?
Now is the Time to Take a Premium Guided Tour
As we return to travel, now more than ever, going guided takes away the complexities and unknowns, with the many benefits adding up to a seamless, enjoyable experience from start to finish. A guided vacation is a great choice but choosing a premium guided tour makes all the difference.
SEAMLESS TRAVEL - Everything is taken care of so you can simply relax
TRAVEL IN STYLE - Great value at the quality you expect
PRIORITY ACCESS - Less time waiting, more time enjoying
BEYOND SIGHTSEEING - Come away enriched and informed
SMALLER GROUPS - Maximize your time
WE ARE COMMITTED TO YOUR WELL-BEING
ALWAYS-ON SUPPORT TEAM
Expertly Trained Travel Director - Your Travel Director has been trained in enhanced hygiene and distancing standards. Supported by your Well-Being Director, they will monitor compliance and guest well-being.
Diligent Driver - Your driver has been trained to ensure your transportation and luggage is hygienically managed, so you can travel hassle-free. They'll get you from one destination to the next with ease and sanitize all coach surfaces throughout your tour.
Well-Being Director - A dedicated Well-Being Director, with the latest health authority and local government guidelines, will be available on all tours of more than 20 guests. They will ensure daily adherence to all well-being protocols and always be available to support guests.* This includes facilitating any mandatory COVID related testing with as little impact as possible to our guest experience.
Global Around-the-clock Support Team - In addition to your dedicated on the road team, our operations and guest support teams remain available behind the scenes, in contact and on call 24/7.
HYGIENE PROTOCOLS & DISTANCING
Smaller Groups, More Personal Space - With our smaller groups and uniquely reconfigured coaches with fewer seats, you benefit from more personal space.
Air Filters - Air within the coach is completely filtered and changed on average every 2 to 3 minutes, faster than most hospital operating theaters, which is mandated at 3 to 4 minutes. Our air filtration system is designed to create an efficient vertical and safe airflow that helps ensure impurities, like Covid aerosols, are not spread.
Quality Assurance - Your Well-Being Director is responsible for the quality assurance of all hotels, restaurants and other venues you visit during each journey. Quality checks will ensure that all travel partners meet local regulations and the established TTC, WTTC and WHO well-being protocols.
Hygiene Equipment - Hand sanitizer is accessible and freely available. We ask that you bring your own medical face mask as in some destinations it may be compulsory to wear a mask in certain settings or in public places. Your international carrier, departure airport or a transit airport may require that you wear a face mask, please check the requirements with your airline. Please note that airlines and other establishments may not accept washable cloth masks but only medical masks. On tour, in the case of emergency, personal protective equipment will be distributed to you.
Sanitized Surfaces - All frequently touched surfaces inside your coach — including handrails, doors, tables, overhead lockers — plus your luggage handles, will be disinfected multiple times each day.
Priority Access - Skip the lines with priority access at landmark sites.
24/7 INCIDENT RESPONSE
Always Up To Date - Our teams are always up to date and continue to adjust to the changing regulations from health authorities and local governments. They make changes behind the scenes so you are able to enjoy your tour.
Incident Response Protocol - Should an incident arise on tour, rest assured that we have protocols in place. We will direct distancing and coordinate with local medical support and testing. We will liaise with local authorities to follow directives, which will vary across countries, and support you every step of the way.



DISCOVER OUR SEASONAL FAVOURITES
09 Days | Alpine Christmas Markets


Festive Revelry: A 9-Day Guided Tour of France, Germany and Austria's Christmas Markets
There is nothing quite like Christmas among the Alps with the festive Munich Christmas Market, Salzburg's snowcapped spires and an indulgent cup of Glühwein in Innsbruck. Your Local Expert brings Mozart's history to life ahead of an indulgent Salzburg market tasting, with samples of traditional, hand baked gingerbread. After tasting these festive treats, the culinary delights continue with a traditional Innsbruck dining experience, set against the backdrop of a local Tyrolean folk show. If that is not enough to summon your holiday spirit, a stroll through the medieval cobbled streets of Freiburg will certainly do the trick, not to mention the fairytale surrounds of Strasbourg, where the sweet scent of cinnamon treats is carried on the breeze at the oldest Christmas market in France.

09 Days | Amazing Spain & Portugal


Step Back in Time During a 9-Day Spain and Portugal Guided Tour including Ancient Sites
From walking the cobblestone streets of a former Roman colony to tasting a decadent 'Pasteis de Nata' tart made from a 200-year-old secret recipe, this 9-day guided tour allows you to embrace the best of old-world Spain and Portugal. Listen as metal sizzles in a master artisan's hands as he teaches you the craft of Damascene. In Granada, wander the fragrant and arabesque gardens of the Alhambra Palace. Learn the art of flamenco dancing, stomping your feet to the sounds of an acoustic guitar, in a private lesson with professionals in Seville. Then, cross the Portuguese border to scale a 16th-century fortress in Lisbon and visit Fátima, Portugal's most holy site. Finally, raise a glass and say ¡salud! to these ancient wonders during a celebration feast in Madrid.

11 Days | Best of Italy


Live La Dolce Vita with VIP Access: 11-Day Italy Guided Tour of the Best Sites & Cuisine
Explore the best of Italy on this 11-day guided tour. In Rome, enjoy a VIP Vatican tour that includes access to the Bramante Staircase — a spiralling Renaissance masterpiece normally off-limits to visitors. As your travels continue along the Bay of Naples, stop on the slopes of Mount Vesuvius for lunch at a local farm still growing traditional produce unique to the region. In Florence, learn the secrets of leather making from a local leatherworker. Fall in love with Venice as you see churches and palaces from a private boat, and cruise its canals on a romantic gondola ride. Sail to Capri, where craggy mountains cascade into the Tyrrhenian Sea; a Local Expert will help you navigate its narrow alleys. But before you say arrivederci to Italy, enjoy one last experience: a private opera during a four-course meal that features local wine.

11 Days | Best of Britain


Get the Royal Treatment During a 9-Day Guided Tour of England, Scotland & Wales
See the very best of Britain on this 9-day guided tour that traverses Scotland, Wales and England. At Edinburgh Castle, sit on the Stone of Destiny, the sandstone seat upon which dozens of Scottish monarchs were crowned. Survey the English Lake District, where mountainous peaks give way to expansive lakes and scenery so picturesque it inspired the words of William Wordsworth. Plus, discover the mystery of Stonehenge, where towering prehistoric stones cast shadows on emerald green fields and sail across Plymouth harbor, with views of the city's royal citadel. Finally, indulge in a feast at a historic mill in the English countryside, enjoying organic seasonal produce freshly picked from the fields just outside.

15 Days | Best of Spain & Portugal


Grand Castles, Incredible Art & Iconic Sights: A 15-Day Guided Tour of Spain and Portugal
See the masterpieces of Spain and Portugal on this 15-day guided tour. In Madrid, an art historian will walk you through the Prado Museum, where Spain's most impressive paintings hang. Navigate Segovia's medieval streets alongside a Local Expert. Journeying to Granada, visit the region's oldest olive grove, before dining in the home of a local family, sampling local produce and wine. At the Alhambra, explore the palace's lace-like stone walls and wander its manicured gardens. In Seville, stomp to the sounds of an acoustic guitar during a private flamenco dance lesson. In Porto, sip port during a wine tasting, and in Lisbon, see an architectural masterpiece — the Gothic-style Jerónimos Monastery.

08 Days | Christmas Markets of Austria & Bavaria


See the Best of Austria & Germany on This 8-Day Guided Tour of Europe's Top Christmas Markets
Journey through the snowcapped peaks of the Austrian Alps on this grand tour of Vienna's Schönbrunn Palace, Salzburg's 500-year-old Christmas Market and Munich's six-story tall Christmas tree. Warm up with a mug or two of Glühwein at the Innsbruck Christmas Market before indulging in an exclusive Insight Choice, taking a horse and carriage ride through the romantic streets of the Old Town or a tour of the world of Swarovski Crystal. At the Salzburg Market Tasting experience, meet with a local market stallholder for an exclusive sampling of gingerbread, washed down with a glass of mulled wine. In Neuschwanstein, follow in Walt Disney's footsteps on a tour of the fairytale-like castle that reputedly inspired him, complete with extravagant decorations and breathtaking views.

08 Days | Christmas Markets of Austria, Croatia & Slovenia


Enjoy Some Festive Retail Therapy in Austria, Slovenia and Croatia on an 8-Day Guided Tour
Indulge in a winter escapade across Vienna, Ljubljana and Zagreb on this 8-day Christmastime tour. With attractions handpicked by Local Experts at every stop, this festive trip is packed with winter wonderland magic. In Slovenia, enjoy a lush Ljubljana tasting experience, replete with local delicacies and fine wine. In Croatia, shop the Zagreb Christmas Market—always abuzz with excited chatter and in Austria, take in a concert in Vienna, at the world famous Kursalon. Between the festive market stalls in Bratislava, be sure to breathe in the heady aromas of the sweet cinnamon infused drinks and sample the Slovakian Christmas delicacies to your heart's content.

13 Days | Christmas Markets of Central Europe


Europe's Christmas Markets Shine Bright: A 13-Day Guided Tour of Austria, Slovakia & Germany
Add some one-of-a-kind gems to your gift list at the Christmas markets in Vienna, Munich and Ljubljana. This 13-day Christmas shopping extravaganza takes in the 500-year-old Salzburg Christmas Market, Mozart's family home and a mouthwatering array of Viennese desserts. Visit Neuschwanstein Castle in Bavaria, reputed to have been the inspiration for a certain spin off at Disneyworld, and dine out in Vienna with lashings of Austrian specialties filling the table at a Restaurant Dinner. In Ljubljana, follow your Travel Director on an eye-opening tour of the Slovenian capital before tasting some truly scrumptious, Slovenian Christmas delicacies. From Zagreb take a funicular to the idyllic town of Gornji Grad and board a cave train in Postojna to explore a stunning underground world.

08 Days | Christmas Markets of Germany


Shop and Sip Glühwein at Germany's Premier Christmas Markets on This 8-Day Guided Tour
Take a once in a lifetime trip across Germany, sipping beer in Munich, dining on German delicacies in Berlin and experiencing the Christmas pyramids in Dresden. This immersive Christmastime tour highlights the delights of the Nuremberg Market's Christkindlmarkt stalls—with the chance to sample authentic German Rostbratwürste, and the musical surrounds of the Leipzig Market, where locals gather to sing and celebrate the festive season. On your Local Expert Tour of Dresden, see iconic city sights like the enormous Procession of the Dukes mosaic, Zwinger Palace and the Semper Opera House. Dresden is also home to Germany's oldest Christmas market where you can taste Christstollen—a traditional Christmas cake recipe dating back to medieval times.
08 Days | Christmas Markets of Poland, Prague & Germany


Europe's Merry 8-Day Tour: Enjoy Festivities Across Poland, Germany & The Czech Republic
Take your taste buds on a tour of the Czech Republic discover the food markets of Prague and explore the Krakow Christmas Market in the city's Old Town district and indulge in Berlin. Setting out from Krakow, get a sense of Poland's old-world charm with your Local Expert as you ascend Wawel Hill to the Renaissance Castle and cathedral—the final resting place of the Kings of Poland. Known as the Venice of Poland, Wrocław is a wonder to behold with its 150 bridges spanning five rivers and twelve islands, not to mention the Baroque grandeur of the Rynek Christmas markets. In the German capital, see what remains of the Berlin Wall, admire the painstakingly restored Reichstag and soak up the festive magic among the market stalls of Gendarmenmarkt square.

10 Days | Easy Pace Budapest, Vienna & Prague


Explore Hungary, Austria & The Czech Republic at Your Pace On This 10-Day Guided Tour
See the iconic capital city sights of Budapest, Vienna and Prague as your local Travel Director takes the reins on this 10-day adventure. Starting with a spot of Budapest sightseeing, your introduction to Hungary's capital tracks through the cobblestone streets of the Castle district to the sweeping city views from the Fisherman's Bastion. A strudel tasting paired with rich, aromatic coffee precedes a journey along the Danube to Vienna—the home of the Habsburg royals. The regal grandeur of Schönbrunn Palace gives way to an abundance of local dining in Vienna and the chance to taste Austria's most delectable dishes. In the Czech Republic, the fairytale town of Český Krumlov delights with its ageless charm and in Prague, your Local Expert guides you through the city of a hundred spires.

10 Days | Easy Pace Italy


From the Vatican to Venice: See the Best of Italy on this 10-Day Guided Tour
Italy's top highlights await you on this 10-day guided tour. Stop by the Colosseum in Rome before heading to the Vatican Museums, where a VIP dinner awaits. In Florence, see Piazza della Signoria, an open-air art gallery where Renaissance masterpieces are housed. Join a Local Expert in Pisa for an informative tour of its infamous leaning tower, then stop at an organic farm in the Tuscan hills, where fields of vegetables give way to lines of olive trees, and you'll feast on an authentic Italian meal. In Venice, board a private boat that will whisk you past the city's ornate palaces and beneath its bridges to the marble arcades of Piazza San Marco.

09 Days | Highlights of Spain


Experience the Art and Architecture of Spain During a 9-Day Guided Tour
See the beautiful world of Spain during this 9-day guided tour. Begin in Barcelona, where a Local Expert will lead you along the city's narrow lanes to the lively Las Ramblas and the Sagrada Família, a basilica built by the architect Antoni Gaudí. Paella was created in Valencia. Later, enjoy a private cooking demonstration at a family-run restaurant while sampling the local flavors. See glorious views of the Sierra Nevada before reaching Granada, where a Local Expert will guide you through one of the most remarkable fortresses ever built: the Alhambra. In Seville, learn the art of flamenco dancing during a private lesson, then be treated to a passionate performance by professionals. Visit the Prado Museum in Madrid with an art historian, who can share the stories behind Spanish masterpieces by artists such as Francisco Goya.

07 Days | Magical Switzerland

All Aboard the Glacier Express for a 1-Week Guided Tour of Switzerland's Winter Festivities
Experience the magic of Switzerland at Christmas, journeying from Lucerne to Brig, and on to Geneva. Start your Swiss adventure in Lucerne, a stunning 14th century fortress city sitting on a lakeshore and surrounded by snowcapped forests. Voyage through the frosted peaks and frozen waterfalls of the Grison Alps to the Alpine ski resort of St Moritz—a retreat frequented by royalty and James Bond in the Spy Who Loved Me. Board the Glacier Express to Brig and adventure through the heart of the Swiss Alps in the Albula Pass tunnel, before crossing the skyscraping Landwasser Viaduct and descending through the Rhône Valley. Explore the car free, cobbled streets of Zermatt Village at the foot of Mount Matterhorn and in the Swiss capital, enjoy a sumptuous Geneva fondue dinner at Le Petit Chalet.​

10 Days | Northern Lights of Scandinavia


Take a 10-Day Guided Tour of Finland & Norway With the Northern Lights Shimmering Overhead
See the Northern Lights from Scandinavia's breathtaking mountain tops on this 10-day tour of Helsinki, Alta and Oslo. Journey through Finnish Lapland—250km above the Arctic Circle to Ivalo, the Gateway to the North. From the comfort of your cozy cabin in Aurora Village, gaze out through the glass roof as the lights of the aurora borealis dance above. Cross the Finnish-Norwegian border to North Cape and sample caviar in Europe's northernmost point, before a once in lifetime visit to a working husky farm. Here you will meet the Arctic dog sled racing Alta huskies—a world famous champion dog sledding team, before a stop in Tromsø where the indigenous Sami community invite you to help feed their reindeer herd. The vacation draws to a close on the scenic, and once Viking, shores of the Oslofjord.

07 Days | Scenic Iceland & Northern Lights


See the Sights of Iceland & Bask in the Glow of The Northern Lights on a 1-Week Guided Tour
Experience the iconic sights of Iceland as you gasp in awe at the exploding hot springs in Geysir and lose yourself in the Northern Lights dancing overhead in Reykjavik. From the thundering waterfalls of Skógafoss and the majesty of the Hekla volcano, to the allure of the Golden Circle and the earth shaking Mid-Atlantic Ridge, this one-week tour has it all. Uncover Iceland's volcanic history at the Lava Centre en route to Vik, visit a geothermal bakery in Fontana where fresh bread is dug out of the hot ground before your very eyes and hone your horticulture skills at the massive greenhouse tomato farms in Friðheimar. Discover how Iceland was settled at a fascinating exhibit in Borgarnes and conclude your tour with a Local Expert in Old Reykjavik, as they guide you through the capital.

12 Days | Splendours of Egypt


Cruise the Nile River and See the Pyramids on a 12-Day Guided Tour of Egypt
Explore the splendors of Egypt on this 12-day tour. Cruise down the Nile with a stop at the Old Cataract Hotel, where Winston Churchill and Agatha Christie once dined, for a traditional high tea. Continue down the Nile to Luxor, where you will see the Valley of the Kings, where pharaohs — including the famous Tutankhamun — are buried. Later, break bread with a family in Geziret Bahirat, who will regale you with tales of local life. In Cairo, see the oldest pyramid in the world, the Step Pyramid of King Zoser, before traveling to see one of the Seven Wonders of the Ancient World: The Pyramids of Giza. Here, stand face-to-face with the towering sphinx and later, see a sound and light show dance across the stones.

09 Days | Winter Wonderland

Splendour Among the Snow: A 9-Day Guided Tour Spanning Germany, Austria and Switzerland
Experience the winter wonderlands of Europe like never before with stunning views of Lake Lucerne from the peak of Mt Pilatus and all immersive tours of Munich, and Salzburg. An Insight Choice experience in Innsbruck lets you choose between a horse drawn carriage ride through the Alpine scenery or a visit to the world of Swarovski Crystal. The Austrian adventure continues with an exclusive Salzburg market tasting experience, where a locals serve goblets of Glühwein and fresh from the oven Lebkuchen—fragrant with ginger and cocoa. Across the border in Germany, Rothenburg alongside the River Tauber serves up lashings of 16th century charm and in Munich, foaming steins of beer beckon at the city's famous beer halls.

09 Days | Wonders of Egypt


From Pharaohs to Pyramids: See the Best of Egypt During a 9-Day Cruise & Tour
Embrace the very best of Egypt on this 9-day tour. In Luxor, walk through an avenue of ram-like sphinxes at Karnak, a complex of ancient temples, churches and pylons, and enjoy the Luxor museum, where you can see two royal mummies. Travel by luxury coach to the Valley of the Kings, where the infamous pharaoh Tutankhamun is buried. Along the Nile, board a felucca — a wooden boat with billowing sails — with a local sailor, who teach you about traditional sailing practices. In Cairo, meet an Egyptologist at the Egyptian Museum to see treasures recovered from pharaohs' tombs, and ascend to the Citadel for sweeping views of the city below. And behold the incredible Pyramids of Giza from inside, as an Egyptologist takes you past the Sphinx to the center of a pyramid so that you can see its cavernous wonders.

11 Days | Wonders of Turkey


Travel from Istanbul to Golden Cappadocia on an 11-Day Guided Tour
Fall in love with Turkey on this 11-day guided tour. See Ephesus, an ancient city built in the 10th Century B.C. with an amphitheater that once sat 24,000 people. Drive through the Maender River Valley to an organic farm, where you can walk the lush lands, then feast on fresh produce during a mouth-watering lunch. See the turquoise travertine pools in Pamukkale where ancient Romans used to soak — then dip into the spa at your hotel to indulge in its Turkish baths. Take a tour of a traditional cave house in Cappadocia with the local who lives there, then dine as you watch whirling dervishes dance nearby. Visit the Mausoleum of Atatürk, the resting place of the country's first president, in Ankara. Travel to Istanbul, where you'll see the infamous Blue Mosque before bargaining at the electric Grand Bazaar, which boasts more than 4,000 shops.
TERMS AND CONDITIONS
Save 10% per person on the land portion of Insight Vacation's European winter vacations, departing from 1 October 2022 until 30 April 2023.
Valid for new bookings only made between 01 August 2022 and 31 October 2022.

Full payment is required 90 days prior to departure, or by the full payment date as indicated in the standard booking conditions, whichever comes first.

If guests change to another trip or date that is not on sale, they are responsible to pay the difference and adhere to different payment conditions.

Savings are subject to availability and may be withdrawn at any time without notice.

May be combined with 5% CBV Past Guest discount only, not combinable with any other discount or promotion.

Other conditions may apply.
For inquiries, please contact our Leisure Team through:
You may also message us through
Facebook
.