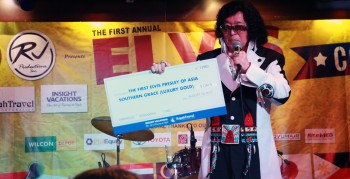 Insight Vacations and Rajah Travel Corporation awarded a trip to Graceland to the first ever Elvis Presley of Asia--- Jun Espinosa held at RJ Bistro.
The tour package is a 9-day trip to Nashville and Memphis, the two legendary cradles of modern music, which includes a visit to Sun Studios, where famous music icons like Elvis recorded revolutionary albums; a private after-hours tour of Graceland with George Klein, Elvis' friend since eighth grade; and a grand finale Celebration Dinner at Arnaud's, one of the Big Easy's prized restaurant.
23 contestants from the Philippines, Japan, Singapore, Malaysia, Thailand, and the USA participated in the first ever Annual Elvis Presley of Asia contest held at RJ Bistro, Manila on August 19 as they battled it out and were eventually trimmed to 10 contestants for the crown as the first ever Elvis Presley of Asia and a 9-day Insight Vacations -- Luxury Gold tour to Graceland by Insight Vacations and Rajah Travel Corporation.
This contest was judged by Mike Stone, karate heavyweight champion with a streak of 91 wins, also a personal instructor of Prycilla Presley; Brian Skinner, an official of Elks Club of America; Ken Cheong, Chairman of Viva Elvis Club of Singapore; Ann Aspinall of the British Women's Club.
The Elvis impersonators wore glittering jumpsuits, skin-tight leather jackets & pants, and one even donned one of the most iconic costumes in the history of rock music-- the Gold Lamé Suit. With their hair styled to pompadour and their sideburns untrimmed, they looked to make the Rock n' Roll King proud.
The finalists had to perform one fast-paced song and one slow/ballad for the Grand finals from the long playlist of The King. the contestants showed up with flashier outfits and louder confidence. Coincidentally, the earlier mentioned participating countries had at least a representative, making it a diverse and unpredictable competition.
The second runner-up, Japan's Yukihiro Nishijima took to stage his black jumpsuit and performed "You gave me a mountain". Dubbed as the 'Young Elvis Sensation', was the 21-year-old phenom--- Bam Angpin, representing the Philippines who uniquely performed a medley bagged first runner-up.
Ultimately, the grand winner who emerged was from the Philippines. By his performance of "Burning Love", Jun Espinosa won the title of the first ever Elvis of Asia and the limousine escorted tour to the Insight Vacations Luxury Gold tour to Graceland.
"His music is timeless", said Jun Espinosa as he also clarified that his primary objective was just to bring all the Elvis Presley fans together and also continue to immortalize his legacy by performing in his name. As the event also is a commemoration of Elvis Presley's 40th death anniversary, the performers, and the attendees made sure that the legacy of the King of Rock n' Roll still lives on.