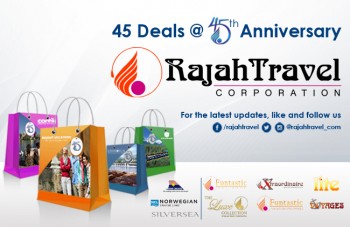 "The journey of a thousand miles begin with one step." –Lao Tzu
Rajah Travel Corporation (RTC) is a Filipino-owned company which was established on February 26, 1972 by the few of the pioneers of the Philippine tourism industry. It is driven by its dedication to produce and provide EPIC travel experiences fit for a king.
RTC connects with its travelers by satisfying their hunger for boundless adventure from domestic to international destinations ranging from Asia Pacific, Europe, and all the way to North and South America.
This year marks its 45th year of bridging international ties, cultivating domestic tourism, and creating value added experiences that become life-long story tales for its clients.
Rajah Travel Corporation celebrates this milestone with 45 Deals @ 45, a year-long celebration of promotions, events, advocacies, partnerships and stronger industry linkages.
We continuously offer amazing deals to our valued clients. With Insight Vacations' Red Hot Deals and Early Payment Discounts we are able to offer discounts to Europe which hit the ceiling of up to 20%!
Contiki caters to 18-35 year olds to travel and explore, so we further encourage them in their desire for adventure by offering discounts as Last Minute Deals that could peak to 25%!
We let Uniworld Boutique River Cruises engage our clients with the experience of luxurious river cruising and offer them discounts that go to up to 30%!
We also offer the luxury trains of Rocky Mountaineer, which have rail routes showcasing the beauty of Canada through its snow-capped mountains and shimmering waterfalls.
We offer Norwegian Cruise Line, which boasts not only on their free-style cruising experience, but they also boast of having up to 29 dining options of complimentary and specialty restaurants.
We are pleased to offer SuperStar Virgo, a vessel of Star Cruises, which has a newly established homeport in Manila. With so many restaurants and bars, SuperStar Virgo is a Mecca for food lovers; the ship's glamorous décor and luxurious suites ensure you travel in upmost comfort.
Here are six of the best of our 45th travel deals you do not want to miss:

45th Anniversary Special Deals
1.

INSIGHT VACATIONS


Travel in January or February 2018 and enjoy additional 10% Savings*
Link:
https://www.rajahtravel.com/promo/travel-in-style-with-insight-vacations-1
2.

CONTIKI HOLIDAYS


Save up to USD 269* per person
Link: https://www.rajahtravel.com/promo/contiki-so-much-to-munch​
3.

UNIWORLD BOUTIQUE RIVER CRUISE COLLECTION


Book 1 & Get the 2nd person for as low as USD 1999*
Link: https://www.rajahtravel.com/promo/uniworlds-paris-normandy-2018-special-sailings
4.

ROCKY MOUNTAINEER


Enhance your rail adventure with CAD 1,000 in added value per couple!
Link: https://www.rajahtravel.com/promo/discover-the-canadian-rockies-by-rail​
5.

STAR CRUISES


Book 3 and Get the 4th Guest for FREE!
Link:
https://www.rajahtravel.com/promo/book-3-and-get-the-4th-guest-for-free
6.

NORWEGIAN CRUISE LINE


FREE AT SEA - CHOOSE FROM 5 INCREDIBLE OFFERS: Free Ultimate Beverage Package, Free Specialty Dining, Free Shore Excursions, Free Internet, Free Family And Friends Sail
Follow Rajah Travel Corporation on Facebook or visit https://www.rajahtravel.com/about_us to learn more.
RAJAH TRAVEL CORPORATION
3rd Floor 331 Building,
Sen. Gil Puyat Avenue, Makati, Philippines
Landline :+632 894 0886
Fax: +632 817 7903
Email: webinquiry@rajahtravel.com